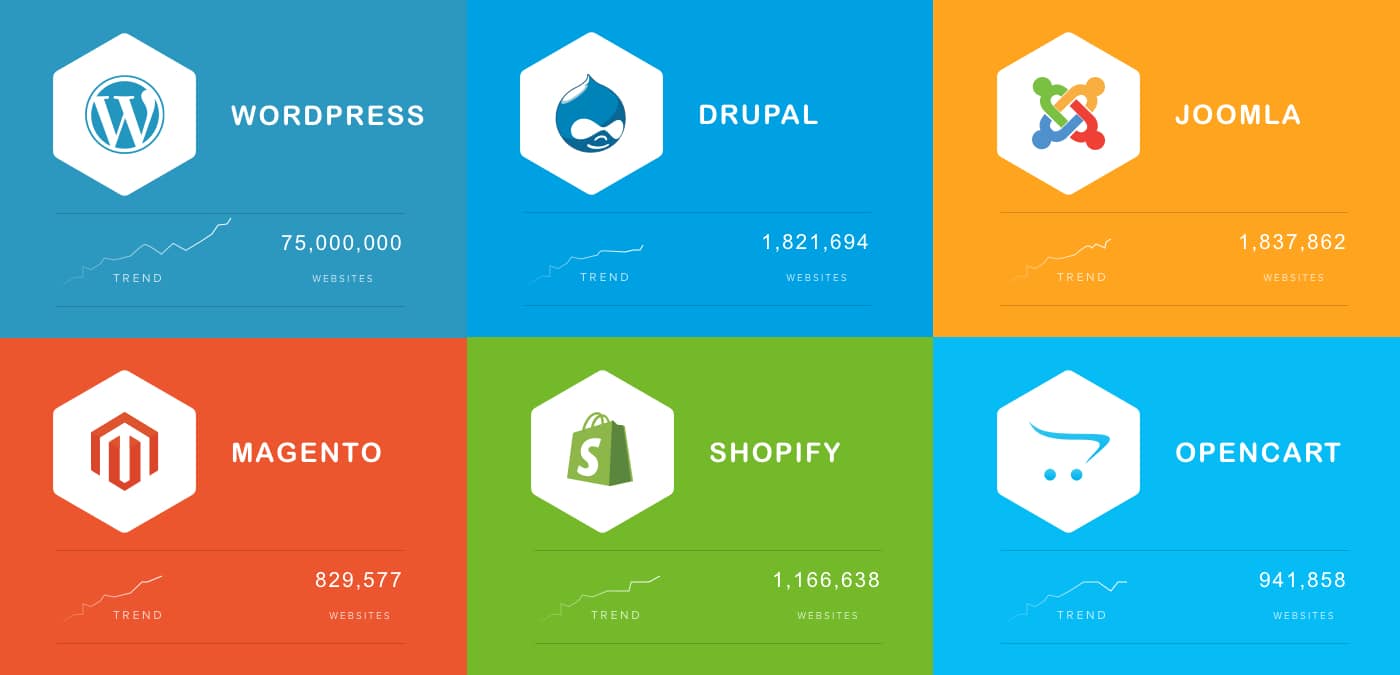 Website building from scratch can be difficult, and it requires a lot of technical background and knowledge. In comparison, website builders are simpler to use, but at time website builder don't offer much flexibility and reliability. So, question is how can you get the desired results and achieve the site you want without hiring an expensive web designer?
Luckily, there's an option. (CMSs) Content Management Systems are the frameworks which are designed to help anyone to create a website, regardless of one's technical background. CMSs offer more flexibility than a website builder. Moreover, it is much quicker and easier to use than designing from scratch.
We'll try to explain how CMSs work is easier and provides more flexibility and reliability and how can you choose the best one for your site. Furthermore, we'll also introduce some of the most popular and best platforms out there.
What is Content Management Systems (CMSs)
Content Management System (CMS) is a website-building framework designed to help you create content includes text, video, images, and blog posts. While most website builders have these features as well, a CMS generally offers more customization and powerful tools.
In comparison to pure HTML site CMS also offers advantages TML is extremely customizable, but you cannot edit things without some technical knowledge and help – which means you always need to call in your web developer even for small change.
You can quickly and easily learn to update its contents yourself using an editor that shows you what your content will actually look like.
Which CMS meets Your Needs
Popularity:
The most popular CMSs have a large and dedicated community coming together to build tools and expand the platforms. This gives you more options, as well as additional support channels.
Your site's complexity:
A simpler CMS like WordPress should be sufficient for most websites and blogs. However, if you want to build complex user roles, portals, or lots of different page types, a more complex CMS like WordPress and Drupal offers some advanced features.
Your technical background:
If you are a complete beginner, you'll want a platform with an editor that's easy to pick up. On the other hand, if you have the technical knowledge to go with a more complex CMS, it's possible to build very advanced sites.
Security:
Some CMSs are more vulnerable to hacking than others. Look for a platform that is constantly updated, in order to respond to the latest security threats. (You should also protect your site by implementing normal security measures, like WordPress do.
WordPress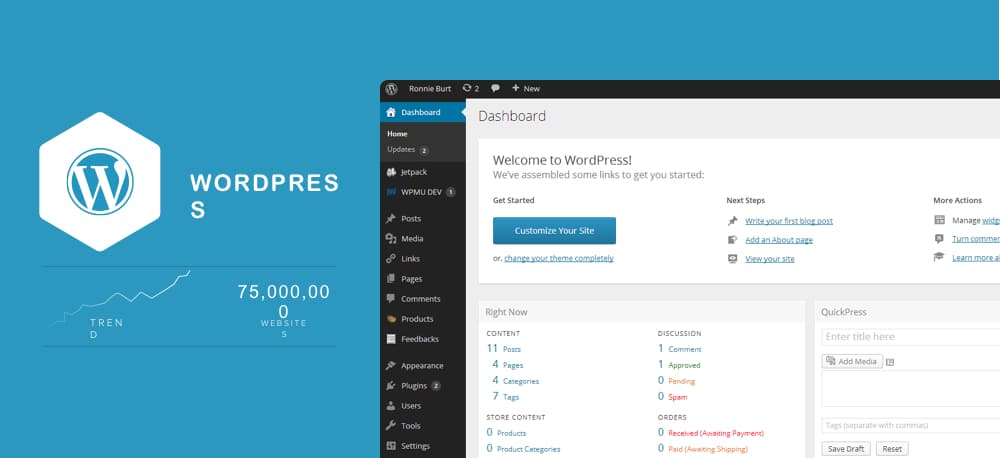 With tens of millions of sites and the most active development and support communities on the Web, WordPress is one of the biggest success stories in modern software history.
With a 59.7 percent market share and about 22.6 million active sites, WordPress is the world's number one CMS. It hosts sites like The New York Times, Forbes and even the Facebook Blog.
It pioneered many of the ideas its rivals are still trying to perfect. It has the biggest catalog of optional feature plugins and themes of any CMS and can be customized to suit any vision.
WordPress is by far the most popular CMS, ease-of-use with powerful functionality. Beginners can dive in and choose themes and plugins to customize their sites, but advanced users can easily create add-ons to meet their exact specifications. WordPress is ideal for blogs, portfolios, and business sites, among other applications. You can even create an online shop using the WooCommerce plugin. WooCommerce can hold upto 1 million products on basic level to my knowledge which mind blowing and above very easy to handle also.
WordPress is both secure and scalable, making it an excellent choice for small and large sites alike.
Joomla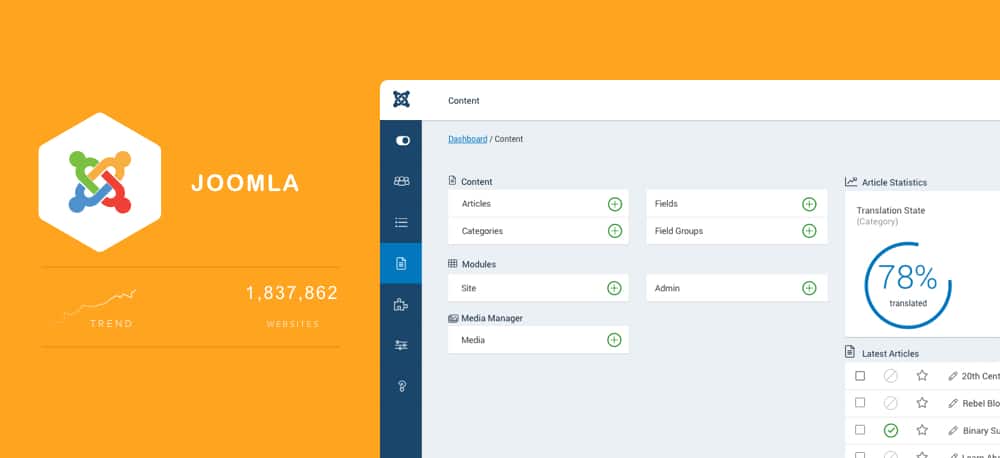 Just like WordPress, Joomla is an open source CMS that allows you to generate web content and powerful applications. It has been available since 2005, and it has been a good WP alternative ever since. Although very similar, Joomla is different from the very start – unlike WordPress, it allows several database options which is something important to tech-savvy folks. But if you're not into serious web development, those features will not mean that much to you.
Market share: 6.7%
The number of active sites tracked: 1,837,862
Number of sites in top one million: 21,952
Joomla installation may not look as quick as WordPress, but it has very similar steps. Apart from that many shared hosting providers offer one click install packages for Joomla as well.
After the installation, the user lands on a control panel that is not as straight forward as WordPress. There are just too many menus to click on and customize your site. Joomla fans would say thats because Joomla is a lot more powerful than WordPress, but we think it is kind of scary for a beginner.
Drupal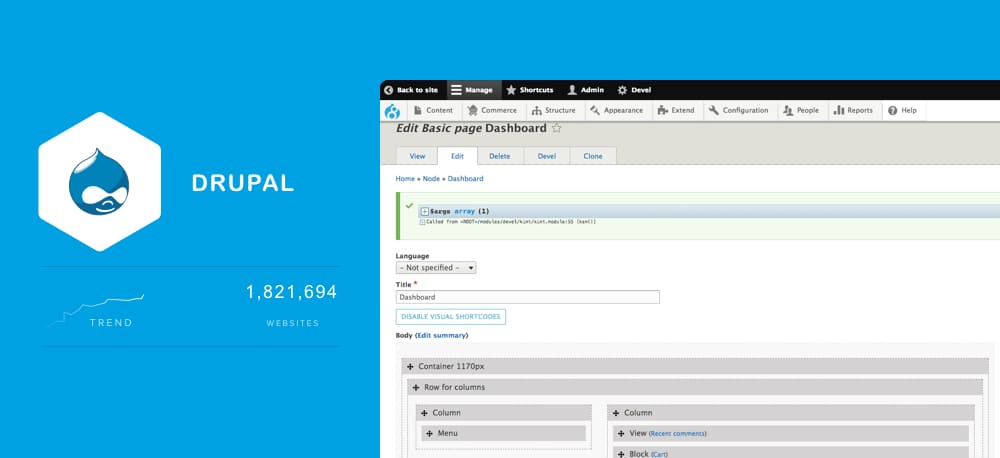 Drupal is an enterprise-level behemoth. Its toolbox includes complex portals and enterprise-level security. It's also slimmer, requiring less memory than WordPress, which means that on the same hosting plan, a Drupal site will often perform a bit better.
However, Drupal is far less beginner-friendly. It's possible to learn, but it can be more confusing than WordPress, especially when it comes to building complex functionality. If you're not a developer, you'll most likely need to hire one if you want to build a site with Drupal.
Magneto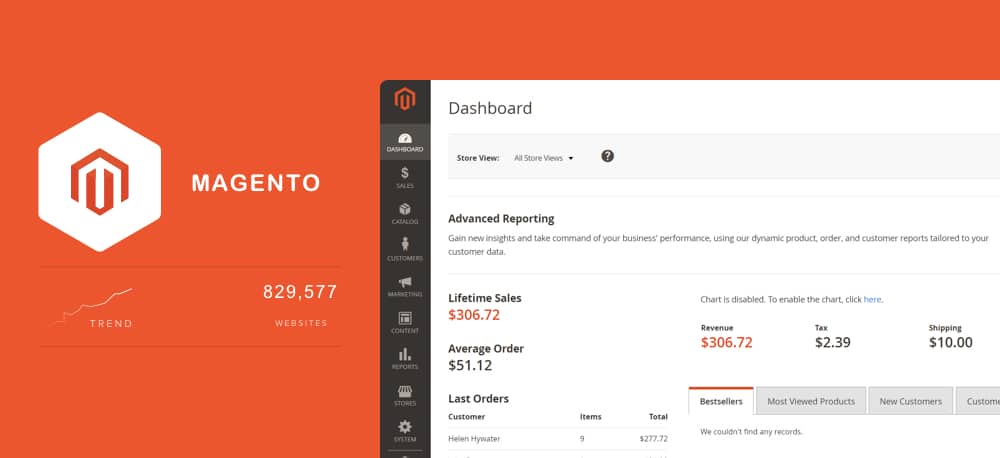 Magento focuses on designing customized e-commerce experiences. It grew out of the need for more robust security in the CMS space. Since it's both powerful and easy to use, it is appropriate for marketing organizations and the clients they serve.
Magento is ideal for companies that are leveraging eBay as the core of their e-commerce strategy. Marketing promotion features, customer service tools, and detailed reporting are all built in.
Shopify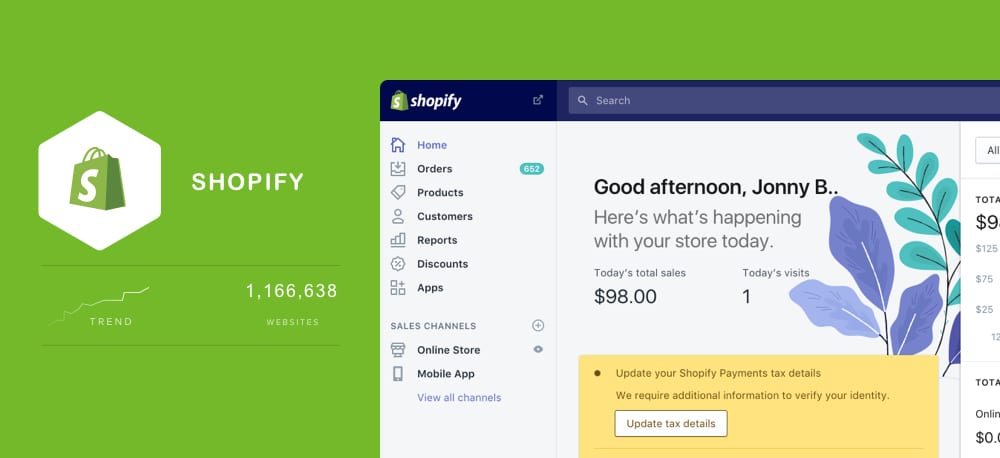 This being a hosted eCommerce platform, enables you to build and run your online store in a few clicks. It brings to you varied features such as compatible hosting, full data security, 99.9% up-time, professional support, and a highly intuitive admin panel. Your store becomes business-ready right after the installation process. Although Shopify is considered as poorly customizable, you can still choose from its 100+ professional default templates through the admin panel or purchase one from the official App Store. It provides both user-friendly editor and complete access to CSS and HTML files.
OpenCart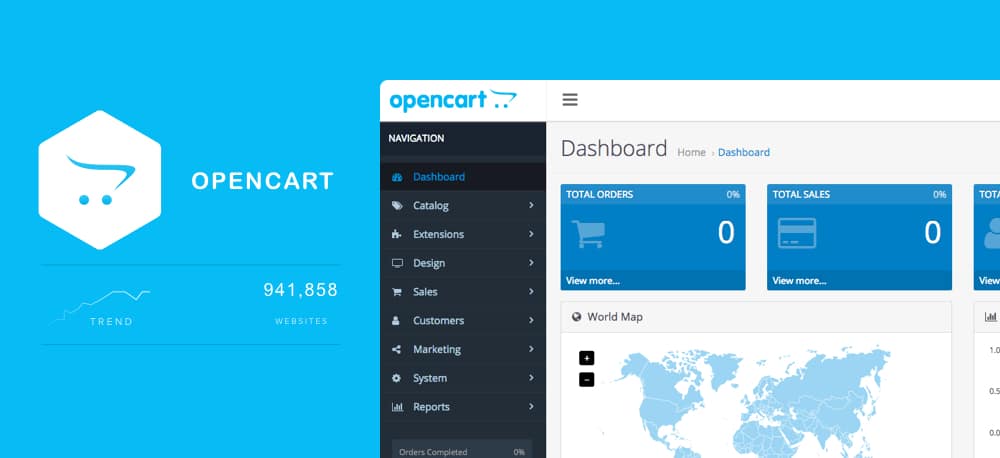 It is a free open-source shopping cart solution famous for its extreme simplicity and a wide range of features. It is a self-hosted platform having a simplified platform installation procedure. Unlike other popular open source solutions, OpenCart is fairly easy-to-use. Its advanced template system efficiently allows you to modify the look and feel of your online store. But when it comes to store customization, it may appear to be slightly complicated and requires you to put in extra efforts. Basically, OpenCart has everything a retailer needs to make the store shine brighter.
CMSs provide powerful website-building tools. Whatever your skill set or website needs are, there's a platform out there to fit your requirements. Since there's an advantage to using a CMS with a large community, however, we recommend sticking with WordPress, the three largest and most comprehensive options on the web today.